A few afternoons ago I took advantage of the nice early spring weather. I wanted to test out my newly built Superfine Touch 663-4 at my local favorite secret bream pond. Man, what a sweet little rod that is! The wind gusted periodically so it was difficult to test out the accuracy but from what I could tell, it's almost exactly like my old Superfine One Ounce 662-2, just better. It's full bending and crisp and roll casts amazingly.. It's going to make an awesome small creek warmwater rod as well as a perfect brookie. I was using a SA Supra DT3 line on it and I couldn't imagine a better line for it. It's not a rod that I'll fish all the time since I'm so enamored with my 802 (see below) but I'll look forward to creating occasions that are meant to fish this rod.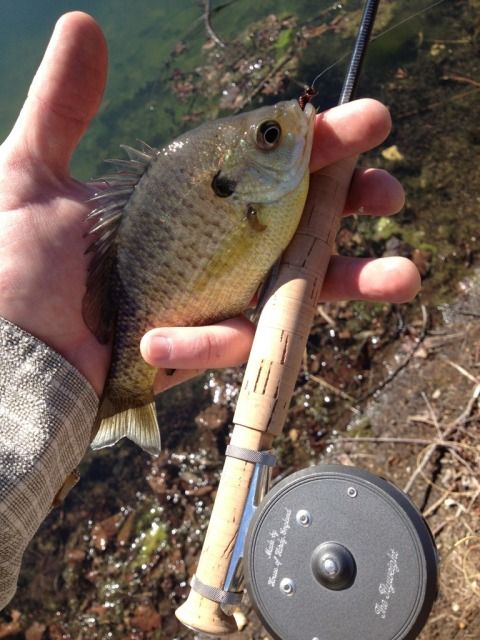 I went back to my car and got my SFT 802 out to throw for a little while longer. Man, what a sweet rod that is! I caught a nice little bass and bluegill. Check out the hole near the front of the dorsal fin on that 'gill. I thought it was a bullet hole but after talking with the MDC biologist who looks after the area he said he's seen that before and it was caused by a heron or some other predator. The hole is fully healed and I imagine that it will cover over completely in time.
Then I hooked into something huge. After the initial head shake it dove and I put pressure on it with the butt section and then I heard a loud SNAP!! and noticed the male ferrule on the butt section broke. The tip also broke as a secondary result (I assume).
I'm really bummed to say the least, and I lost the fish.
I'm sure the fault is mine since I stupidly put the wrench on that fish (I'm still not sure what it was - maybe a bass or a catfish) and not the quality of the blank.
I' shortened the tip section by about 1.5" and will use it as is and will order a replacement butt section and will rebuild it as soon as possible. I can't be without my favorite rod!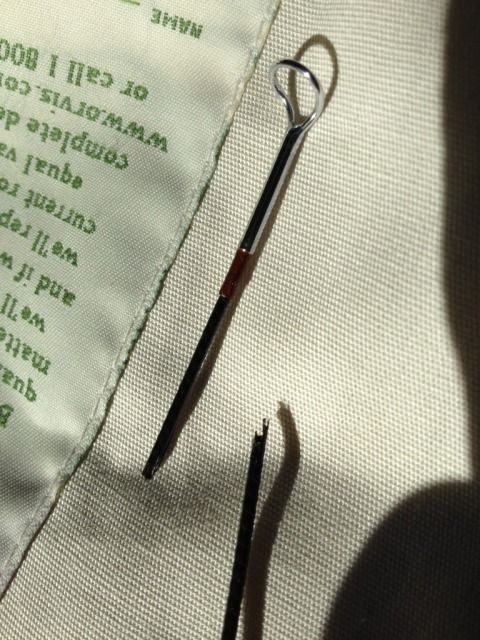 Lesson learned: use the whole rod when fighting a big fish, not just the butt section.